This article is for you if you have been thinking to establish your personal brand on LinkedIn to grow your career, business, and professional network.
As I write this article I have grown my LinkedIn following to almost 40,000 and these are my top 5 key lessons I have found so far.
Why LinkedIn?
A few years back, LinkedIn used to be a job seeker tool for recruiters and job applicants. Meanwhile, LinkedIn has evolved. It has become a networking platform with endless business opportunities for freelancers, job seekers, startups, and global brands.
With a focus on personal branding, video & content creation, businesses and individuals exchange ideas with their audiences, generate leads and revenue.
How did I find out about LinkedIn?
Before jumping right into the key lessons, let's talk about how I came to LinkedIn and why I decided to be more active on the platform. In fact, LinkedIn has always been my most active social channel due to having worked for more than a decade in different international corporates around the globe. I have mainly been using the platform to network with other professionals and did write a couple of articles now and then. That was before I realized the potential of LinkedIn.
In early 2019, I started creating my own content strategy to step it up on this platform. So let's talk about the key lessons, the must-do's and content tips I'd recommend to establish your personal brand on LinkedIn.
5 Key Lessons to Establish Yourself on LinkedIn
#1 Pick a niche and build your content around it
Before starting to post on LinkedIn, make sure you define clear objectives. Ask yourself what you intend to use the platform for first. Are you a job seeker, a business or a freelancer? What's your niche and what 's your key expertise? Once, you have decided on a key area to focus on, start to develop a content strategy around it.
LinkedIn, in my opinion, is great because of the variety of different types of content you can share. This includes posts, photos, videos, and even articles, such as this one. The good thing about articles is that they show up in the google search engine. This gives you the possibility to drive additional traffic to your LinkedIn profile. Just make sure you include keywords and SEO.
Because of the variety of content types, you can share, you will hardly run out of content. Some days I for instance post a simple status update with what's on my mind. If you are interested in learning more about how to never run out of content ideas, check out the following article.
| Related: 5 Tips How to Never Run Out Of Content Ideas Anymore!
#2 Optimize your profile
This one is probably one of the most important key lessons. Show and tell people exactly who you are, what you do, and especially how you can help them. You won't believe how many profiles I see that are not optimized and do not specify a clear value proposition.
Also, make sure you keyword optimize your LinkedIn profile. Yes, you heard right. LinkedIn's algorithm ranks you based on the keywords you use on your profile. So the more targeted your keywords are, the more visible you will be in LinkedIn's search engines and for people interested in your niche.
#3 Be proactive
I see way too many content creators moving over to LinkedIn from other Social Media platforms who post content for a couple of weeks and then say the platform is dead or doesn't work. Here's what I found…LinkedIn is a networking platform. If you want to establish your personal brand on LinkedIn, don't expect people to follow or come to you without giving them anything in return. Do not ignore comments and messages. This is where true engagement and true connections are made. In order to grow on LinkedIn, you need to be proactive, connect, and engage with people on a daily basis. Reply to all comments you receive and engage with your audience. It's a give and take!
#4 Be consistent
If you are aiming for serious growth on LinkedIn, you need to show up every day. Don't expect great returns in posting once in a while. To avoid running out of content, I usually plan one week in advance and I also use a social media schedule tool that automatically posts for me at selected times each day. If you are interested in learning more about the scheduling tool I use, check out the article below. Personally, I have achieved the best results when posting 1-3 times a day.
| Related: Tired of posting manually? Here's how I automate my LinkedIn posts!
#5 Be your authentic self
Especially, if you are looking to create video and content based on personal experiences, what has worked best for me is to simply be my authentic self. Don't be afraid to share weaknesses or failures with your audience. This makes you more approachable. One thing I love about the LinkedIn community is that people are very supportive. Additionally, discussions are much more deep and enriching than on many other social media platforms. Here is what I got…the more unfiltered and real my content is, the more engagement I receive. Last but not least, always make sure you provide value to your audience.
I hope this article has been helpful to get started and establish your personal brand!
Want to learn more about content strategy, digital marketing, and social media? Follow and connect with me on LinkedIn for daily updates!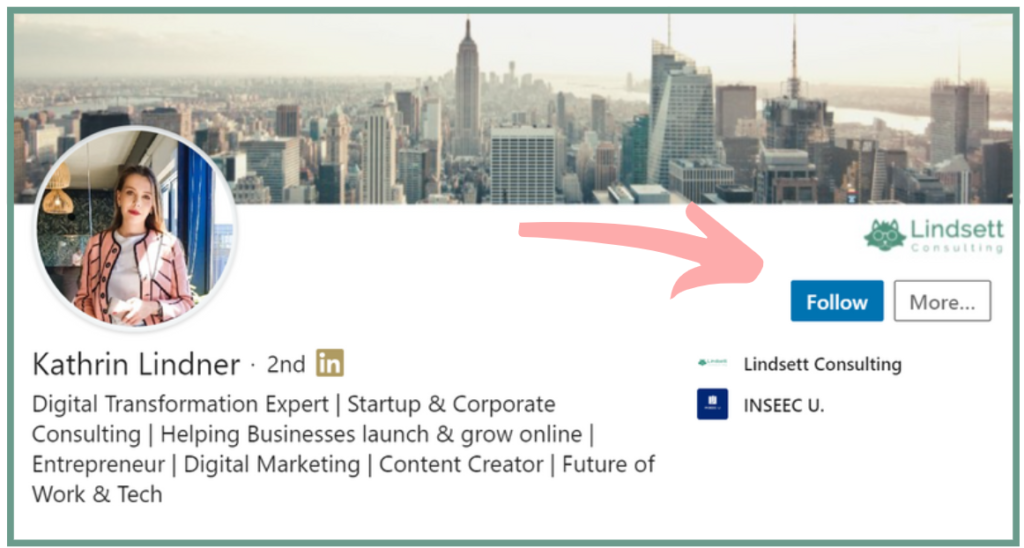 If this post has been helpful for you, please click on the image below to share it on Pinterest!
This post contains affiliate links.