In 2018, LinkedIn introduced hashtags to its platform. Finally! One step closer to becoming more social 🙂 And while many of you might be familiar with Instagram or Twitter hashtags, LinkedIn's terrain is slightly different from other networks.
So let's jump right into it!
As LinkedIn hashtags tremendously increase your reach and exposure, I think we can agree that you definitely should be using them when sharing content with your audience. Let's talk about the best ways to use hashtags.
#1 How To Include LinkedIn Hashtags In Your Posts
Adding LinkedIn hashtags to your posts is pretty simple. Basically all you need to do is type in the hashtag at the end of your post. Like this: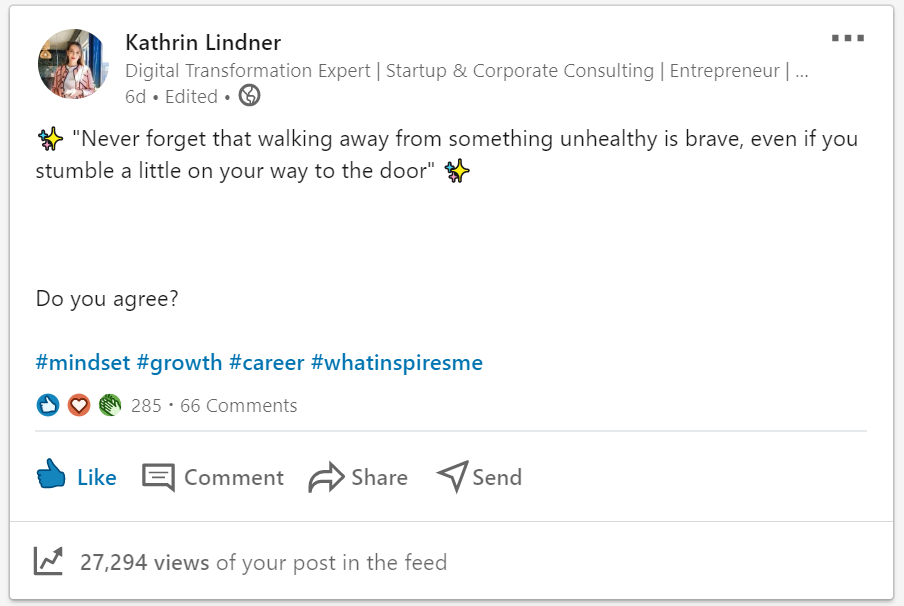 As soon as you start typing the first letter of a hashtag, LinkedIn will show you a couple of suggestions in the form of a drop-down list. One thing, I'd like to highlight is to best use max 3-5 hashtags per post (I am going to talk about this more in detail, later on).
# 2 Use LinkedIn's "Discover More" Hashtags Feature
One thing you probably ask yourself is, where to find the best hashtags? Have you ever paid attention to the 'Discover More' Hashtag Feature on LinkedIn? If not, you should definitely check it out. You can find the feature on your home screen under the section 'followed hashtags', then click 'Discover More'.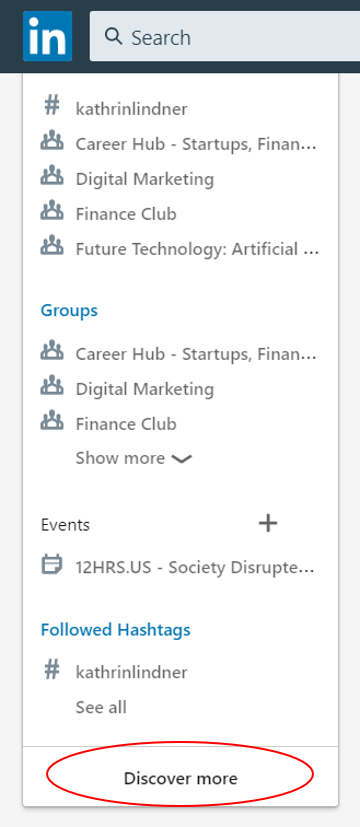 Once you hit 'Discover More', LinkedIn will show you a variety of LinkedIn hashtags you can use including its follower size.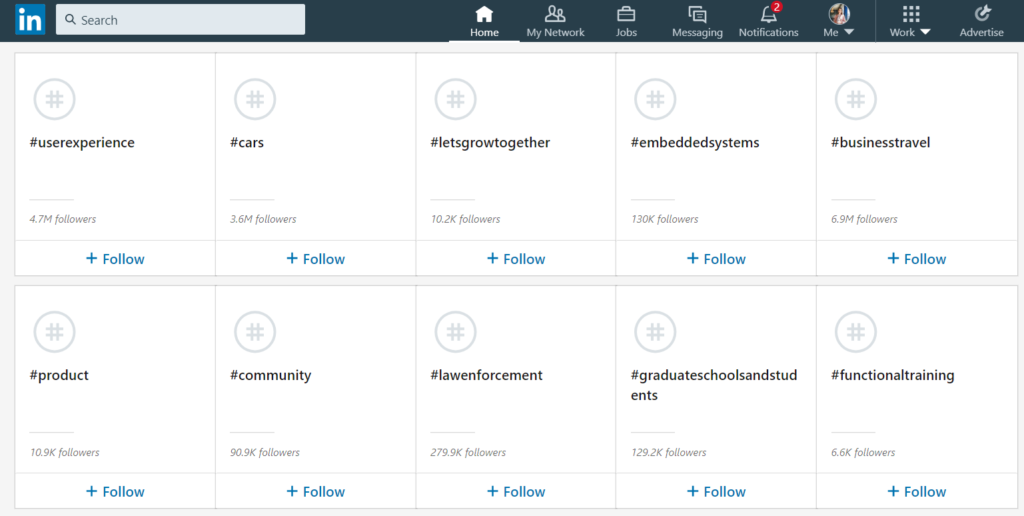 | Related: Tired of posting manually? Here's how I automate my LinkedIn posts!
#3 Be Aware Of Your LinkedIn Hashtags' Audience Size
Now that LinkedIn has suggested a variety of different hashtags to use, it is important to pay attention to its audience size. If you use hashtags that have an average follower count that is too high in comparison to the average engagement your posts usually get, you are less likely to rank. This is because competing accounts using the same hashtag might have higher visibility or gain more engagement on average. This means they'll rank higher than you. What I recommend doing instead especially if you are just starting out on LinkedIn) is to try focussing on medium-sized hashtags with fewer followers. This increases your chance to rank and also to trend* on that specific hashtag.
Example: Instead of using #career (450k followers), you could use #careermanagement (3.2k followers)
*What are 'Trending' posts?: If your post performs above average, LinkedIn might classify your post as 'trending' content. If this happens, users will receive a notification about it, which in turn increases your visibility.

Pro Tip: Did you know that whenever someone adds a hashtag in the comment section of your post, your content starts ranking for that specific hashtag as well? What I thus often do, is add a couple of LinkedIn hashtags when replying to my audience.
#4 Choose A Limited Number Of Hashtags Matching Your Content
I daily see posts on LinkedIn that are stuffed with a ton of irrelevant hashtags, which frankly does look spammy. Besides, it won't give you more visibility either. Let me explain. The more hashtags you use on your post, the lower your chances to rank high on any of them. Besides, LinkedIn might penalize you and decrease your visibility. The fewer and more targeted hashtags you use (I recommend 3-5max) the higher your chances to rank for one or all of those specific hashtags.
Additionally, make sure your hashtags align with your content. If you post about Marketing, try to use hashtags like #marketing #onlinemarketing #b2bmarketing and so on. This allows people interested in your specific niche to find and engage with your content.
| Related: 5 Tips to Establish you Personal Brand on LinkedIn
#5 Use Hashtags To Engage With Content Creators In Your Niche
Many people wonder how to find good content creators in a specific niche on LinkedIn. In my point of view, hashtags are a great way to do so. As mentioned earlier, LinkedIn allows you to follow any hashtag. Take a look through and follow some of your preferred hashtags. Not only will the hashtag specific content then show up in your feed, but you'll likely find a bunch of folks worth engaging and connecting with as well.
#6 Create Your Own Hashtag To Increase Exposure
Last, but not least you might want to consider creating your own, a personal hashtag which can either be your own name or any other word that matches your personal brand. The advantage of this is that users can follow your hashtag. Each time you post something on LinkedIn, your audience is more likely to see your content in their feed. In times where LinkedIn is constantly changing its algorithm, and only shows your content to around 10% of your followers within the first hour of posting, this can be a good strategy to increase exposure.
I hope this article has been helpful for you to use hashtags effectively on LinkedIn!
Want to learn more about digital transformation, content, and marketing? Connect with me on LinkedIn for digital tips & trends!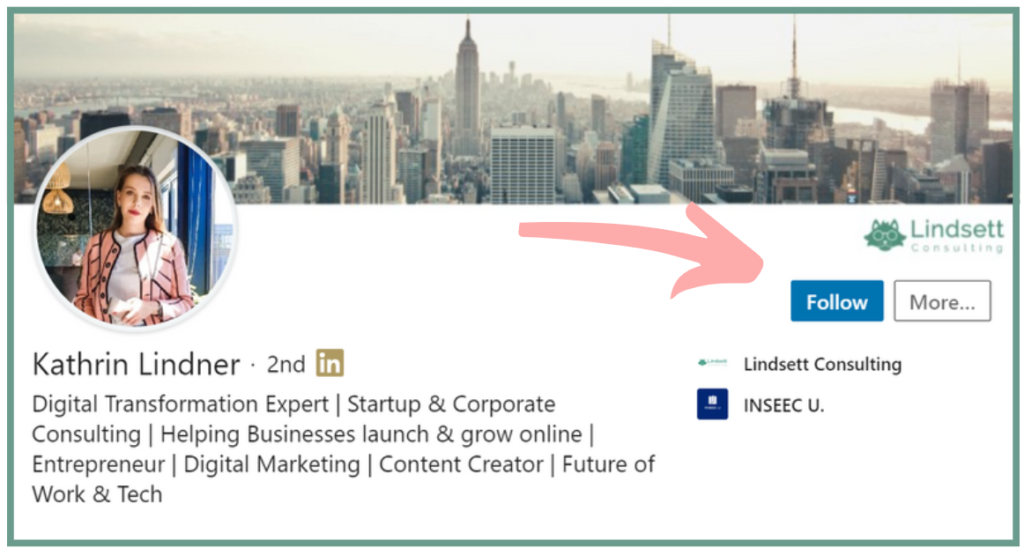 If this post has been helpful for you, please click on the image below to share it on Pinterest!