It is official! LinkedIn Stories is coming! LinkedIn has confirmed that it is working on its own version of Stories. The feature might be rolled out to all users soon.
Stories is live content that automatically disappears after a short time. The feature has become the No.1 social media trend over the last years. Originally invented by Snapchat, other social media platforms including Instagram, Facebook, YouTube, Whatsapp and even (briefly) Skype have since then picked up this feature of content sharing.
According to TechCrunch, LinkedIn has revealed it is experimenting with its own version of the 'story' way of sharing content. The feature has proven especially popular among younger social media users. 'Student Voices', a new feature which allows its users to post short-lived videos, has been rolled out and tested across US campuses back in 2018.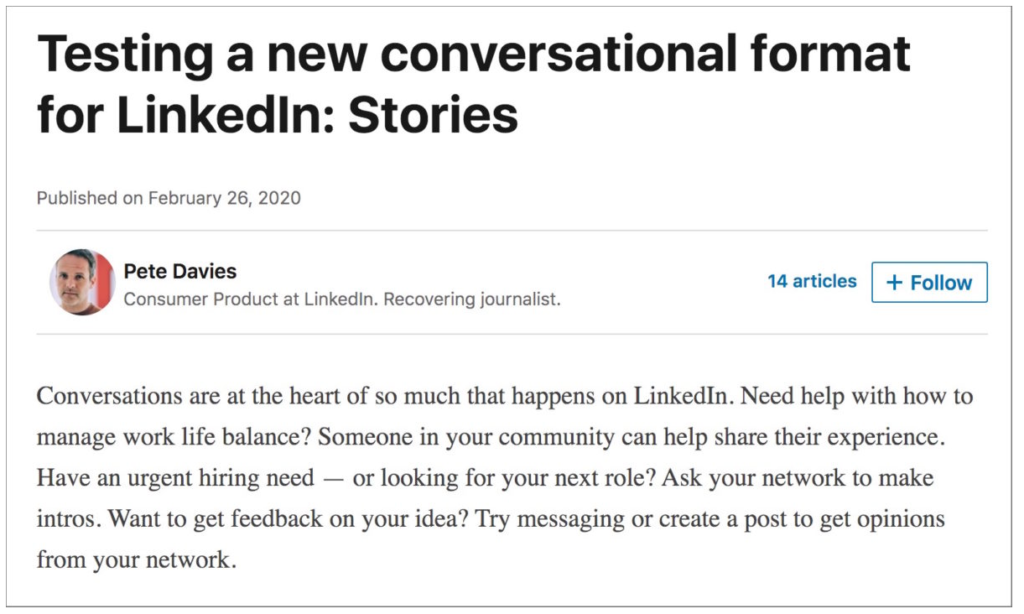 But how can brands benefit from LinkedIn's new story feature? Much like the implementation of Instagram stories, LinkedIn Stories are a huge opportunity for businesses to create more personalized experiences for their customers. With this in mind, here are 3 benefits of incorporating LinkedIn Stories in your branding strategy.
#1 Encourage Audience Engagement
Stories are a great way to open new pathways to increase brand awareness and engagement. LinkedIn stories provide a great opportunity to engage with your audience through Q&A's and polls. As many people on social media platforms are just passively consuming content, stories have features that help increase engagement through eliciting a call to action out of them.
#2 Strengthen personal community relationships
Stories are usually real-time and lower production value which helps them feel even more authentic, approachable and human. Moreover, they can add a personalized touch to how you engage your audience. Next to sharing regular status updates, you can also use them to show what your office is like on a regular workday. Sharing photos or videos from team events, makes your audience feel closer to you as a brand.
#3 Share creative, out of the box content
LinkedIn stories also let you share more creative, out-of-the-box content by taking polls, using stickers, and so much more. From new product launch announcements to sharing updates from live events, stories can be a great way to keep your audience updated what's happening in your company.
This can also be a great way to create extra buzz around an event on LinkedIn. Consider asking key speakers, attendees or B2B influencers to share quick status updates what to expect, or share a "sneak peek" of some upcoming offers in store!
Whether you're sharing new products, daily office update or job opportunities, capitalizing on this new feature to increase awareness and reach new potential customers is definitely a good move!