How can you make money on LinkedIn without investing in paid advertising in 2020? With approximately 610 million members and growing, LinkedIn is the world's largest professional network today. What once was a pure job-seeking tool, currently is in process of turning into a social network. This article covers 6 effective ways to make money on LinkedIn and why you should create a profile on this platform. So let' jump right into it.
Why you should create a profile on LinkedIn
After having launched video and hashtags back in 2018, LinkedIn recently rolled out LinkedIn Stories. This functionality gives users the possibility to interact with the LinkedIn community on a much more personal level. Many people, including Gary V., say that LinkedIn currently has its 'Facebook in 2012 moment'. That's due to the high organic reach. And I agree that right now is the best time to get started with LinkedIn. Success on Social Media often comes down to timing. The earlier you get on board, the higher your chances of building a large audience in a shorter amount of time.
Now that we discussed the importance of creating a LinkedIn Profile in 2020, let's have a look at the most effective ways to make money on LinkedIn.
Attract Clients Through Your Personal Brand
Create a Profile on LinkedIn
LinkedIn is one of the most powerful tools to build your personal brand as a professional, entrepreneur, and business owner. The majority of users are professionals with an average income of around $46,644 per year. Besides, there are 17 million opinion leaders and 10 million C-Level executives on this social media platform. Unsurprisingly, LinkedIn is the most popular social media channel for B2B Marketers, after Twitter. If your goal is to make money on LinkedIn, this is the place to be.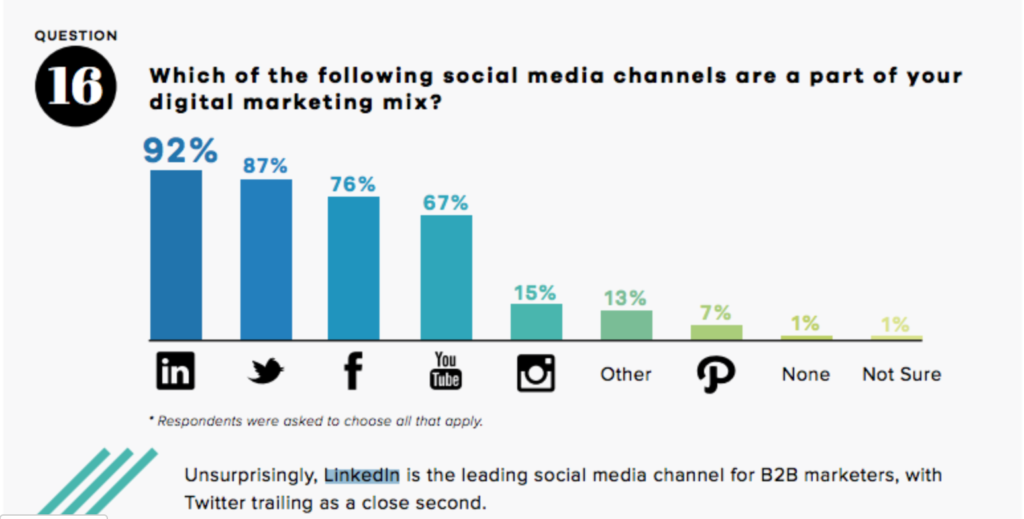 The platform gives users the possibility to write articles, share blog posts, text posts, videos, and lately even LinkedIn stories. Through regularly sharing content around your niche, you can establish yourself as an expert in your industry. This gives you the possibility to create a community of trusted users who might be interested in what you have to offer.
Additionally, to support Coaches, Consultants and Freelancers, LinkedIn recently implemented some new features to showcase your services.
LinkedIn Service Section
Right under your Profile Header you can now find a section called "Providing Services".
The section allows users to specify what services they provide. Professionals can also indicate were they are located, and what their work preference (remote or in-person) is. Additionally, when using the service section, you can decide to allow others to contact you via InMail. This previously only was possible through the paid LinkedIn Premium Feature. Now, it is free.
LinkedIn Featured Section
The featured section on LinkedIn is another new functionality which allows users to better showcase their services. You can highlight your most successful posts, upload your own media, and even link to your website or blog. Overall, this is a great way to highlight your expertise and show other users that you are open to be contacted.
LinkedIn Company Pages
LinkedIn company pages used to be a bit of a forgotten space. It was mainly used by bigger brands to showcase their services. However, this recently has changed. We can now see an increasing number of new businesses who actively use it to promote their brands.
A great example is the non-profit organization "The Female Lead". They have grown their company page followers to over 1.6 million. Not only not only do they share articles to their website to drive traffic. They also recently started a video podcast with thousands of listeners/viewers each month.
Drive Traffic To Your Personal Website Or Blog
Similar to other social networks, LinkedIn is a great way to drive traffic to your website or blog, and then monetize it in form of product sales, PPC ads, and so on. This can be done by creating a LinkedIn profile or your own company page.
You can either write articles on LinkedIn's creator section and refer to your website in your article or post a link to your blog posts in your feed.
Creator Tip: My experience is that the organic reach for articles written on LinkedIn's creator section is rather low. Meanwhile, text posts perform pretty well. I therefore usually post a banner (similar to Pins on Pinterest) and add the article link to my website in the comment section. Whenever you add an external link in the main text section, LinkedIn usually decreases your reach. This makes sense, as they do not want users to leave their platform. Here is an example of how this would look like:
As you can see, I am referring to the article link in the comment section instead of placing it in the main text caption.
| Related: 5 Tips To Establish Your Personal Brand On LinkedIn
B2B Influencer Collaborations
Since the implementation of Hashtags in 2018 and Stories in 2020, LinkedIn has turned into a platform comparable to Facebook and Instagram. The platform definitely still remains a professional network with a focus on business and entrepreneurship. However, B2B, as well as B2C ads in form of influencer collaborations, have started to show up on LinkedIn more often.
While, Influencer Marketing on LinkedIn is currently much lower than on other platforms, there is huge potential for growth in the coming years. LinkedIn is only at the beginning of its journey and now is the best time to get started.
Brands like WeWork, Asus, SAP, KSwiss and many more have previously worked with and paid influencers to be brand ambassadors for their products and services.
An example for a B2C influencer collaboration on LinkedIn is the brand K-Swiss who launched a new shoe collection with different influencers on LinkedIn including Gary V.
Make Money On LinkedIn Through Paid Speaking Opportunities
Another way to monetize your Personal Brand on LinkedIn is through paid speaking opportunities. When you create a LinkedIn profile and start building your personal brand, you automatically establish yourself as an expert in your industry. If you post valuable content on a daily basis, chances are high that you will receive speaking opportunities.
Creators often wonder what the best way to find speaking gigs is and how to pitch event organizers. If you build a strong personal brand on LinkedIn, chances are high that people will reach out, without you without having to "pitch" your brand to any of them. That's the power of social media.
| Related: How To Use Hashtags Effectively On LinkedIn
LinkedIn ProFinder
The last topic for making money on LinkedIn, I'd like to cover in this blog post is the LinkedIn ProFinder. This tool is LinkedIn's marketplace for professional services that helps you find the best freelancer and consultants in your area. You can use it with your LinkedIn profile to get leads, bid on projects, and potentially land long-term gigs.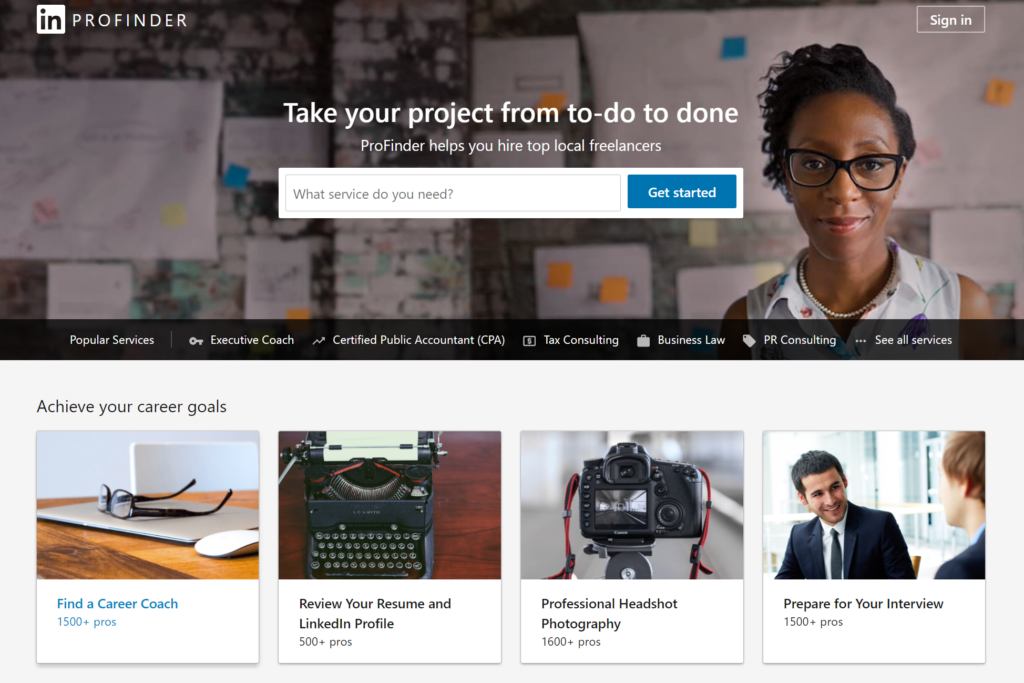 The ProFinder launched back in 2015 with the goal to help users find freelance work and project resources. Users who are in need of specific services have the possibility to fill in a form where they can fill in the type of service they are looking for. LinkedIn then comes up with different freelancers and consultants they might collaborate with.
Over the past years, the tool has been widely used by business professionals in many industries. In case you are offering your services on LinkedIn, this tool is a great way to increase your exposure and gain new clients.
The ProFinder is currently only available within the U.S. and within specific service categories. However, LinkedIn might roll it out in other countries soon, so it is worth keeping an eye on it.
Make Money On LinkedIn: Final Words
As you can see, there are many ways to make money on LinkedIn. This can be in form of monetizing your knowledge, driving traffic to your website, increasing exposure for your products or through paid brand collaborations.
As LinkedIn only recently started turing into a social network, the opportunities to grow your brand are signigicant. Nevertheless, it is important to keep in mind that building an online presence on any social network takes a lot of time and consistency.
Additionally, to establish yourself as an expert in your field, you first need to add value to your audience. Therefore, I advice that your primary goal is to provide value to your community and not to make money on LinkedIn. Of course, it is great if you are able to monetize your social presence, but it shouldn't be your main motivation.
What is your experience with LinkedIn? Let me know in the comments below!
Want to learn more about digital transformation, content strategy, digital marketing, and social media? Let'sconnect on LinkedIn!
📌 PIN THIS POST FOR LATER